Electromagnetic overhead crane
Electromagnetic Overhead Crane Application
In loading and unloading, the
Electromagnetic Overhead Crane
can lift iron or steel blocks, cylinders and so on. It is very convenient for application in loading, unloading, and moving. Permanent
Electromagnetic Overhead Crane
are the most ideal lifting facility for factories, docks, warehouses and transportation.

Electromagnetic Overhead Crane Description
Electromagnetic Overhead Crane
has two kinds: single girder and double girder, and most of it are double girder.
Electromagnetic Overhead Crane
is a kind of heavy duty magnet crane, which is consisting of beams, cabin, flexible electromagnetic chuck, crane traveling mechanism, trolley lifting and cross traveling mechanism, electrical control system.
The beams are welded by the machine hands, which make the structure more reasonable and reliable; The cabin used for operating the crane, which has seats inside; The electromagnetic chuck can adsorbs iron goods; The trolley can move horizontally on the rail fitted on beams; Floor adopts insulation pads and toughened glass for windows; extinguisher and fan are equipped. Both traveling mechanism and trolley motors are special motors for canes, large starting torque and loading capacity. Other accessory like air-condition, buzzer, inter phone can be configured according to our client's request! The shape of the magnetic can be designed according to adsorptive goods.

Electromagnetic Overhead Crane Safety
1.
Electromagnetic Overhead Crane
with permanent magnetic disk .
2. Emergency stop system
3. Weight overload protection device
4. Top quality long time bearing
5. Good quantity polyurethane buffer
6. Crane traveling and lifting limit switch
7. Voltage lower protection device
8. Current overload protection system
9. Phase protection device

Electromagnetic Overhead Crane Feature
1. High quality welding technology of the crane and NDT inspection.
2. It has many safety protections, such as warning indicator, wireless infra-detector, various safety limits and so on.
3. Reasonable structure, favorable performance, strong durability
4. Smooth starting and stopping; Superior safety and reliability
5. We can customize all hoists and cranes with different operating conditions;
6. Low noise, commodious cabin and good view.
7. "One-Stop Shop" for what you need.

Electromagnetic Overhead Crane Drawing ( Double girder)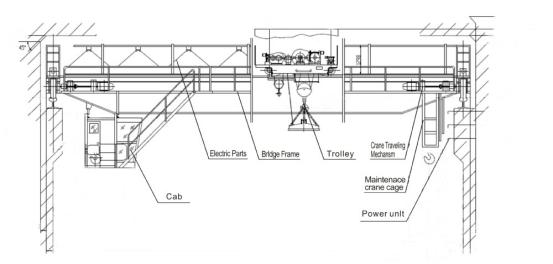 Electromagnetic Overhead Crane also can be called Electromagnetic Bridge Crane, Magnetic Overhead Crane, Magnetic Bridge Crane, Electromagnetic Single Girder Overhead Ceane, Electromagnetic Double Girder Overhead Crane.
Lifting capacity (t)
5t+5t
10t+10t
16t+16t
20t+20t
Span (m)
10.5 13.5 16.5 19.5 22.5 25.5 28.5 31.5 34.5
Lift height (m)
16/18
Working duty
A3-A7
Lift speed (m/min)
18
15
13
13
Trelly traveling speed (m/min)
38
Crane traveling speed (m/min)
80
Power (kw)
63
101
118-126
148-155
Power supply
380V 50HZ 3phase or as your required
Leave Messages Please Feel free to give your inquiry in the form below.We will reply you in 24 hours.