Manual Single Girder Overhead Crane
Manual Single Girder Overhead Crane is a light-small one which is applicable to equipment installation, maintenance and work sites without power source and fitted with its manual monorail crab that has fine performance and reasonable cost.

We are pleased to manufacture products according to users' special requirements. If you offer us the parameter, we can do special design according to your requirements.

Manual Overhead Crane Feature
1. Manual Single Girder Overhead Crane, all motions are drive by hand, it is used in the place that no power source.
2. The Manual Single Girder Overhead Crane ( bridge crane) is characterized by more reasonable structure and higher strength steel as a whole, the main beam is made by I-beam or box frame steel beam, the end carriages are made by C-section beam.
3. Manual Single Girder Overhead Crane ( bridge crane) is used together with chain hoist as a complete set. The capacity from 1 ton to 10 tons. The span from 5m to 14m, the working grade is A1-A3. Working temperature within -25 to +42 centigrade.
4. Manual Single Girder Overhead Crane ( bridge crane) is prohibited to use in the combustible, explosive to corrosives environment.
Manual Overhead Crane

Advantage
1. Overload protection
2. Emergency brake:
3. Control Method: Room control or remote control to avoid any injure to the operation staff.
4. Main lifting motor is with thermal protection and currency protection.
5. Hooks with latch
6. Rubber buffers
7. Protective earthing
8. Crane cab switch and travel end switch
9. Sub-assemblies characteristic are tested before assemly.
10. All cranes must be pre-assmebled and tested before leaving factory and offer the certification of test.
Manual Overhead Crane

Service
1. Freely provide project designing, process designing, choosing suitable equipment for you.
2. Accompany you to complete the acceptance of the equipment, draft the construction scheme and detailed process and complete process of export.
3. 12months warranty.
4. One year freeparts.
5. Professional technical staffs provide installation, commissioning and training services.
6. Technical advisory for any time.
Manual Overhead Crane

FAQ
We are ready to discuss with customers the supply of overhead /bridge cranes with parameters, mode of operation and special demands.
Kindly please provide the following information when sending enquiry to us.
1. Lifting capacity ______ton
2. Span _______meters (it is center to center distance between railways)
3. Lifting height ______meters (it is the distance from center of hook to floor)
4. Travelling length _____meters
5. Industrial voltage _____V, _____HZ, 3Phases
6. Control mode
A. pendant control B. remote control C. cabin control
7. Do you also need us to supply rail and bus bar?
A. Yes B. No
8. What material to be lifted?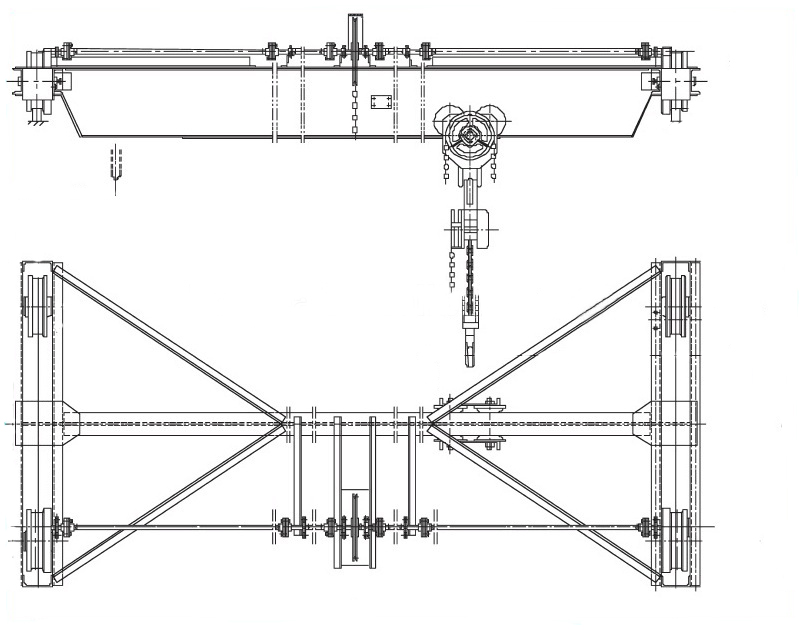 Manual Single Girder Overhead Crane also can be
Manual Overhead Crane,
Manual Bridge Crane,
Manual Single Overhead Crane,
Capacity (ton)
1
2
3
5
10
Span (m)
5-14
Lifting height (m)
3-10
Working duty
A1-A3
Travelling speed (m/min)
Trollry
5.2
5.2
5.2
5.2
5.2
Crab
5.3
5.9
4.7
4.7
4.2
Track width
37-51
Leave Messages Please Feel free to give your inquiry in the form below.We will reply you in 24 hours.